Multifunctional Extraction Tank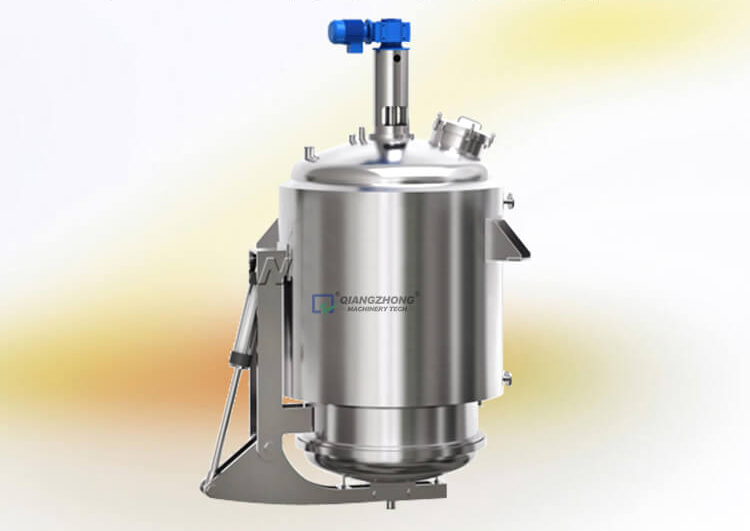 PRODUCT PARAMETERS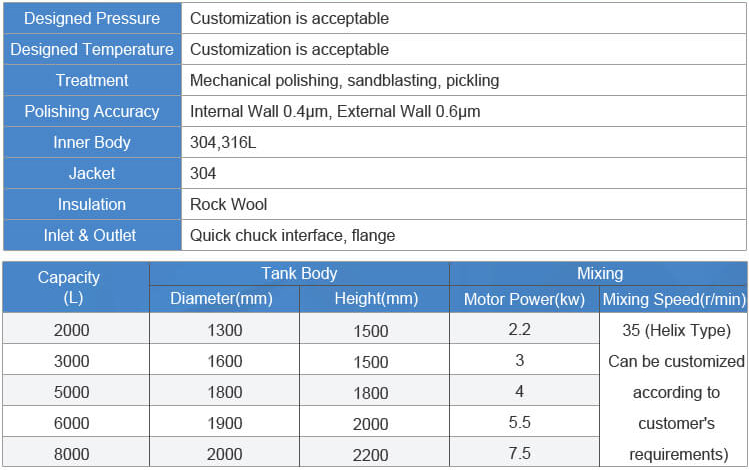 PRODUCT STRUCTURE
A multifunctional extraction tank is usually with a mushroom-type round body, big upper and small lower. The big upper part ensures sufficient boil and buffer space, avoiding materials leakage and the small lower part ensures liquid heat quickly, shortening heating time and improving extraction efficiency. Mechanical agitator and jacket are optional. The internal wall transitions are all arc-shaped, no dead corner, easy to clean. Inner surface is mirror polished, complying with food sanitation requirements. The tank shape can be designed as positive cone type, mushroom type, straight cylinder type, oblique cone type, inverted cone, and other type according to customer's requirements.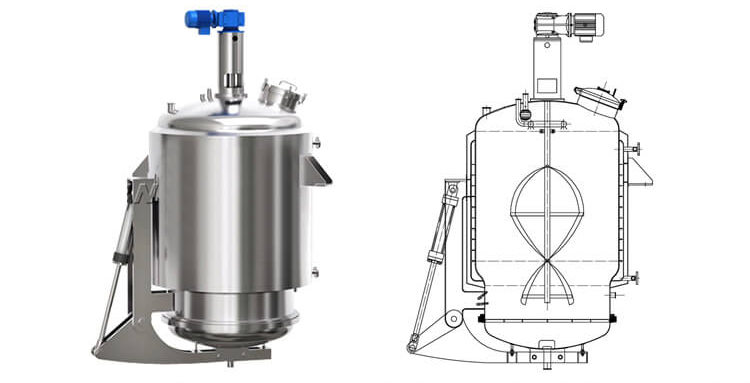 Optical Configuration for Tank Body
Aseptic air filter, thermometer (digital or dial type), pressure gauge, sight glass, sanitary hole, inlet and outlet holes, CIP swivel cleaning ball, safety valve, and other accessories could be equipped according to customer's requirements
Product Features
●Tank capacities available range from 2,000L to 8,000L, which could be designed and manufactured according to actual needs of customers.
●Pneumatically-controlled self-locking slag door not only has no leakage, but also guarantees that it's safe, as it will not open automatically in case of sudden power off or stoppage.
●With quick chuck interface, inner body and extraction basket are both made of SUS304 or SUS316L stainless steel (optional), inner surface is mirror-polished Ra≤0.28μm~0.6μm. Outer surface can be polished, brushed, sandblasted or others according to customer requirements.
Typical Application
●Suitable for processes of decoction, wet dip, heat reflux, forced circulation infiltration, aromatic oil extraction and organic solvent recovery in the industries of food and chemicals. Especially it's better for dynamic extraction or countercurrent extraction, ensuring a short work time and high liquid content.
●It is applicable to the process of dynamic extraction and extraction of leaves of plants such as tea and Chinese herbal medicine by using water as the medium.
STIRRING PADDLE TYPE