Technical Parameter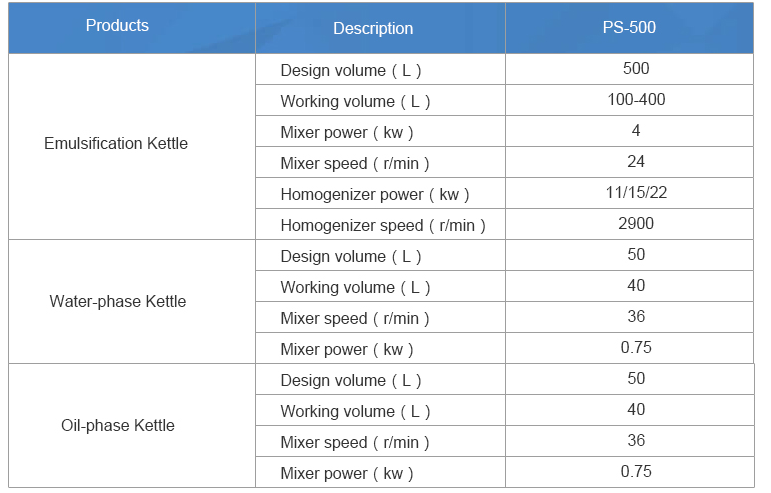 Product Structure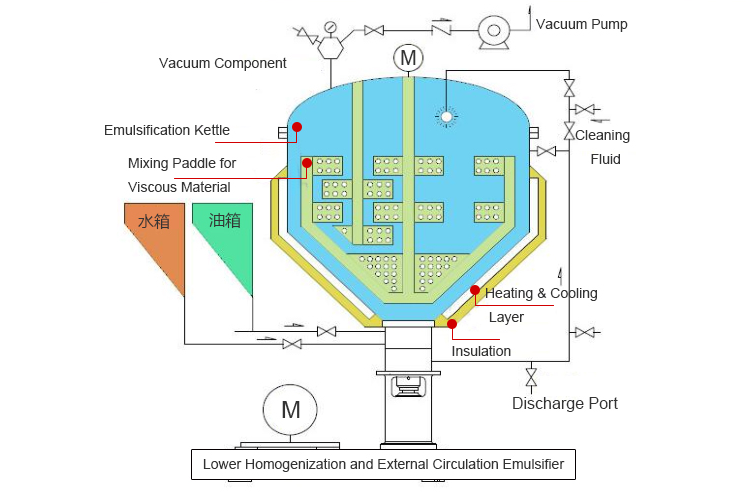 The emulsification system is designed for the production of emulsion suspensions for a wide range of industries. There are 5 optional models ranging from 5L to 1000L, including experimental, medium and large size.
The system is simple in design and easier to operate, and the whole machine is more space-saving in terms of height design. The advanced mixing equipment guarantees uniform quality of the finished product. It is versatile and can be used with a variety of peripherals such as vacuum, jacket heating/ cooling, multi-open lids, sampling designs, etc. It makes the SP system an ideal device for processing fluids. It is flexible in design and can be customized according to the needs of different industries. It can be used in emulsion and pharmaceutical production in the cosmeceutical industry, in the production of mayonnaise and condiments in the food industry,in the production of emulsions, suspensions, pigments and coatings in the chemical industry, etc.
Structure and Work Flow
The external circulation homogenization system is the core of the system. It integrates inhalation, transport, dispersion, and CIP online cleaning. The two-stage pump design allows the homogenization system to provide not only the power to mix the material, but also the powerful pumping capacity and the ability to deliver highly viscous materials. It allows the aqueous phase and the oil phase to be emulsified directly in the homogenization system, and then pumped to the reactor for agitation, thus avoiding the defects caused by the conventional process.
This is a very efficient system that combines high cycle throughput, uniformity of production material particle size and high efficiency emulsification. Solids and liquids can be added directly to the emulsification head and quickly and completely emulsified and dispersed to avoid agglomeration. In the CIP cleaning process, the system can be used as a transfer pump to provide high pressure cleaning fluid for rotating spray balls.
The emulsification and dispersion phases are added directly to the working head.

The modular design of the tie rod is convenient for maintenance and disassembly.

Material circulation, CIP cleaning, no additional pumps are required for discharge.

Free choice of whether the material will pass through the emulsification chamber.

Better processing results, shorter processing time.
The core emulsification system can be combined with different hoppers, pretreatment reactors and discharge buffer tanks depending on the production needs. According to the material, different heating and cooling devices can be added. Even the circulation line can directly pass steam to heat the material. More efficient is our constant pursuit.
This system electronic control unit can be configured with simple button control or a PLC touch screen system with recipe control, depending on the customer's choice. Manual or fully automatic machines are also available upon request.
Compared with the same type of equipment abroad, our automated system can not only meet the customer's performance requirements (can provide simple system experiments), but also has great advantages in terms of price, delivery time and after-sales service.
Product  Showcase